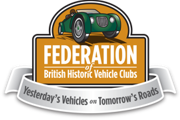 Updates from the FBHVC - Newest at the top
Published: 23/03/2020
Federation of British Historic Vehicle Clubs updated statement on Drive it Day 2020
#DriveitDayMemories
The FBHVC is committed to following the latest UK Government advice on events and public gatherings pertinent to our member clubs and as such, the following statement replaces all previous correspondence regarding National Drive it Day during this fast-moving situation.
In response to the updated guidance and restrictions issued by UK Government, the Federation recommends that all activities that involve taking a historic vehicle out on the road specifically for the purposes of Drive it Day, now be abandoned.  All enthusiasts are now urged to stay at home on 26 April 2020 and not partake in any non-essential travel for Drive it Day and instead, get involved in a nationwide social media campaign to spread positivity around historic vehicles during this difficult time.
Currently, UK government are advising against all non-essential social contact. Our current general guidance to car clubs, that can be found on our website www.fbhvc.co.uk , encourages the cancellation or postponement of meets, events and gatherings of people. Additional advice has now placed restrictions on non-essential travel of any kind.
However, enthusiasts of historic vehicles are still encouraged to participate on 26 April 2020 in the mass sharing, via social media, of images and memories of themselves and their families out and about in their historic vehicles during a previous year's Drive it Day.
Use your chosen social media platform to share images and stories of memorable trips with your historic vehicles or indeed, what you might be working on within the 'self – isolation' of your garage or shed.
The FBHVC are asking for all enthusiasts to share pictures using the hashtag #DriveitDayMemories.
Post your picture on to the FBHVC social media feeds or those of your member clubs. We will be monitoring those social feeds and public posts published with the #DriveitDayMemories hashtag will be gathered onto a special area within the FBHVC website galleries in the future.
As previously stated, with such a crowded event calendar, the possibility of achieving consensus for a revised Drive it Day date later in the year will be virtually impossible. Therefore, Drive it Day 2020 will not be re-scheduled for later this year, but will resume its normal format on 25 April 2021.
For the latest advice for car clubs, events and other news – keep up to date via the Federation news pages at www.fbhvc.co.uk .
Press Release - 17 March 2020                                                                                                                              For immediate release
Federation of British Historic Vehicle Clubs statement on Drive it Day 2020
The FBHVC is committed to following the latest UK Government advice on events and public gatherings pertinent to our member clubs and as such, the following statement is in line with that advice, at time of writing, during this fast-moving situation.
Member clubs of the FBHVC are seeking guidance from the Federation with regard to Drive it Day, scheduled for Sunday 26th April 2020. 
Many events are already postponed or cancelled and so, with such a crowded event calendar, the possibility of achieving consensus for a revised Drive it Day date later in the year will be very difficult to achieve, hence why we publicise the dates up to five years in advance.   
Therefore, Drive it Day 2020 will continue to be celebrated on Sunday 26th April. This being closest to the date in 1900 when the One Thousand Mile Trial organised by the Automobile Club started from London on April 23rd and travelled via Bristol, Birmingham, Derby, Manchester, Kendal, Carlisle, Edinburgh, Newcastle, York, Leeds, Sheffield, Lincoln, Nottingham, Leicester, Northampton and back to London in order to prove the viability of the motor car.
Currently, UK government are advising against all non-essential social contact. Our current general guidance to car clubs, that can be found on our website at https://www.fbhvc.co.uk/news/article/coronavirus , encourages the cancellation or postponement of meets, events and gatherings of people.
However, there seems no reason why enthusiasts could not take their vehicles out for a drive on Drive it Day, waving to each other from a discrete distance, so long as that drive avoids physical social contact.
The Federation is encouraging the use of your chosen social media platform to share images and stories for what you are doing with your historic vehicles and furthermore, if you are unable to drive them, what you might be working on within the self - isolation of your garage or shed.
The FBHVC are asking for all enthusiasts to share pictures of what they do on Drive it Day utilising their historic vehicles in any way that is safe and sensible to do so using the hashtag #DriveitDay. Post your picture on to the FBHVC social media feeds or those of your member clubs. We will be monitoring those social feeds and public posts published with the #DriveitDay hashtag will be gathered onto a special area within the FBHVC website galleries in the future.
We would like to stress that the more mature, or those with underlying health conditions that fall into the "high-risk" category, should not attempt to leave isolation, even for a short drive. Those able to consider a short drive on Drive it Day should plan carefully whether that journey may require interactions, such as the purchase of fuel or payment of road tolls for example and make a personal judgement on the safety of any Drive it Day journey. We strongly advise that you follow current UK Government advice and do not attend events, meets or visit public places such as pubs, restaurants or cafés on your Drive it Day journey.
For the latest advice for car clubs, events and other news – keep up to date via the Federation news pages at www.fbhvc.co.uk .
[ends]
For media enquiries, please contact:
About the FBHVC:
The Federation of British Historic Vehicle Clubs exists to uphold the freedom to use historic vehicles on the road. It does this by representing the interests of owners of such vehicles to politicians, government officials, and legislators both in the UK and (through the Federation Internationale des Vehicules Anciens) in Europe.
There are over 540 subscriber organisations representing a total membership of over 250,000 in addition to individual and trade supporters. All our directors operate in a voluntary capacity supported by our secretary.
Website: www.fbhvc.co.uk
Update 16.3.20 :-
News from the FBHVC kindly reproduced with permision. (These are excerpts which maybe of interest) – Ed.
The difficulties around enthusing younger people about transport heritage will continue and I expect, will get more difficult as the younger generations are constantly bombarded with messages about climate change and negative connotations around fossil fuels. We would be wise, I feel, not to underestimate the challenges around educating and engaging with new, younger audiences in an era where it seems perfectly acceptable for young children to shun education and skip school in order to go on protests – as long as it is about the climate – and extremist activists are applauded for sabotaging vehicles at the Brussels Motor Show which ironically, is one of the best platforms we have for sharing, developing and showcasing ideas for cleaner and more sustainable modes of personal transport for the future.
I feel as a community, we must be up front and centre in the climate change conversation and not seen as denying that there is a problem or resisting change for the sake of it, but rather sharing our experience and knowledge to assist in understanding the history of transport in order to learn lessons for the future. The fact remains that if every historic vehicle was removed from the road, there would be no difference to the urgency of the emergency that faces the planet, nor would any country's emissions level be profoundly affected.
Despite the ever-increasing narrative around these issues in the mainstream media, I'm personally optimistic about our future, mainly because one of the most welcoming, open and friendly movements in the world must surely be the historic vehicle scene. Whether it is giving children rides on traction engines, teaching them how to ride a motorcycle or letting a young person sit in your prized classic car – the very best way of ensuring we have a future for our transport heritage is to ensure that young people feel included and that a historic vehicle, and the skills required to preserve it, are attainable for all. Most importantly we must inspire and encourage – that way, the future is more likely to be safe.
Clean Air & Low Emission Zones
We continue to see initiatives to propose charging or banning zones in city centres. Birmingham have recently announced that even though they have yet to establish their city centre CAZ, they intend to introduce a total ban on cars within the city centre at some stage. It may be this represents the start of a further round of restrictions.
In England, the various zones remain stalled. The two most advanced – Birmingham and Leeds – have both been deferred over software development and changes in the proposed funding of the charging system. I understand that Birmingham are still working on the basis that their system will be operational by July 2020 although from my earlier comments you will appreciate, I remain to be convinced. Other councils have made proposals but these will also have the shared software development issues and have not progressed further.
York is one of the latest and intends to ban all vehicles from within the old City walls. Given that much of the area inside the walls is pedestrianised and such streets as remain open to vehicles are narrow and congested, this seems unlikely to have any major impact.
London plans to expand its existing ULEZ beyond the central "congestion zone" area to the North and South Circular routes, and whereas Central London has a relatively small resident population, this outer area encompasses some 3 million residents. This is planned for October 2021.
The simple answer is that there are provisions for 'retro-fitting' to be recognised, although the process to do it is complex and untested, and any conversion along with emission testing seems likely to exceed the value of most vehicles considered. Technically, I have spoken to one owner who claims it is theoretically achievable on his car, but only by upgrading the engine to an available later compliant specification. There certainly isn't a simple 'bolt on' kit!
This is an area for others to explore. Our remit in representing Historic Vehicles and their owners means we have focused on pressing for full exemptions, and vehicle emission compliance is a highly technical field we are not resourced to advise on.
Technical & Events Malcolm Grubb
New Year New Events
I  hope you have all had a chance to use and enjoy your classic vehicle(s) in 2020 already. My year started at the Brooklands Gathering on January 1st where my MG Midget was one of over 1,250 vehicles and almost 7,000 visitors attending on the day. It was a great example of just how diverse and well supported the UK Historic Vehicle movement is as we start the new decade.
I also attended the HRCR open day at the British Motor Museum in Gaydon and this was the best attended one since it began. I am hoping to have an FBHVC stand at this show in 2021 as this free to enter event attracts organisers, entrants, clubs and suppliers. It proved to be a great networking opportunity and I met so many friends, by chance, whilst I was there. It's always nice to visit the British Motor Museum as well. The following day I took part in the first Touring car Assembly of 2020 run by an FBHVC member club in the Thames Valley area, a full entry (with reserves) is another good indication of the health of our hobby. The classic cars generated a lot of public interest as we enjoyed the scenery. Sadly, we did not enjoy the potholes, which seem to be everywhere now.
A number of you have contacted me about your concerns and confusion regarding the latest regulation and licence changes introduce by MSUK. It's fair to say that the introduction of the RS Clubman licence for drivers and passengers has been extremely poorly managed. I applied for one as soon as they were first announced and am still waiting for it to arrive some two months later. As I needed one for events in January, I was emailed a temporary self- print document so that I could sign on to events where it is now required it. It expires at the end of January so hopefully the 'real one' will have arrived in time for February. Some of the unintended consequences of this new UK licence requirement are already evident and as a result the rules have been further amended so that 'non British Citizens' competing in the UK can now be issued with a Historic Regularity Competitors Permit, which is only valid for the event in question. This rule change applies exclusively to Clubmans Historic Road Rallies only as I write this. For more information please see the MSUK website https://www.motorsportuk.org/get-started/2020-rs-clubman-licence/
On behalf of the more adventurous Historic Rally competitors amongst our members I have met with all of the organisers listed below. Their collective offerings are truly amazing and I urge you to have a fresh look at their websites and start planning your trips and adventures for the next few years. There are so many to choose from, in so many places and each has its own unique character.   
Bespoke Rallies  http://www.bespokerallies.com/all-rallies/
Classic Rally Press http://www.classicrallypress.co.uk/home.html
ERA https://www.endurorally.com/coming-events/
HERO https://heroevents.eu/events-schedule/
HRCR https://www.hrcr.co.uk/events/
Rally the Globe https://rallytheglobe.com/rallies-main/
Rally Round https://www.rallyround.co.uk/save-the-date/
Drive it Day Sunday 26th April 2020
Is the date for Drive it Day in your diary? If not, I hope it is now! After the success of 2019, 2020 promises to be even bigger! We have started to compile a list of events on our website. Please take a look: https://fbhvc.co.uk/events
Have you arranged or started to arrange your Drive it Day event? If so, please don't forget to share the details with us. We plan to publish a Drive it Day Events feature next time and I am sure you'd love for your event details to be included. Don't forget to send to the details to Drive it Day Co-Ordinator Ken Coad via coadspeed@btinternet.com. Please copy me in too (secretary@fbhvc.co.uk) to guarantee your event listing.
The Official Supplier of Drive-It Day Rally Plates for the Federation of British Historic Vehicle Clubs is Dragonfly. They can send out one-off plates direct to any Classic vehicle owner who wishes to participate in this nationwide FBHVC organised event. Clubs can also order in larger quantities so that their members can take advantage of better unit prices. The easiest way is to pre-order via the Dragonfly webstore: https://shop.dragonflyrally.co.uk or call 0800 7838634.
The Imp Club magazine informs us that the 'Imp20 National Weekend' wll be at Anstey Park, Alton, Hampshire from 29th July to 3rd August and for those of you who are a bit more adventurous there is the 'Noord Brabant' rally at Woudenberg on 14th to 18th May.
Congratulations to the Fairthorpe Sports Car Club on their Diamond Jubilee this year!!
The Gilbern Owners Club have announced the date for their 2020 National Day to be held at the Head of Steam Rail Museum Darlington. Keep Sunday 5 July free!
NM162:-
Some news from FBHVC reproduced with permission which maybe of interest.
MOTs and IVAs
And now I have some good news. I reported in the last edition on the issue by DfT of a consultation entitled 'Road Vehicles: Improving Air Quality and Safety'.
This Consultation included poorly thought out proposals to limit, through changes to the MOT test, the ability of Kit Cars and some other totally ill-defined 'classic' vehicles to obtain IVAs.
I explained how the Federation had responded in a robust manner. Whether it was our efforts or the sheer volume of protest these proposals aroused, I am happy to report the DfT has confirmed that these proposals will not be proceeded with. They must have arisen in the first place from a concern in some quarters at the continuing use of some old engines in what might be effectively new cars.
They did not understand the reason for the use of these historic engines and are unlikely to be happy to accept them now. So the Federation will keep an eye on their possible return in another form.
DVLA Ian Edmunds
The Federation is now in a position to properly explain a topic previously only mentioned in passing. It may be recalled that over the last few months I have made some cryptic references to the potential pitfalls that could arise from modifying a monocoque bodyshell. During that period the Federation has been involved in discussion with DVLA and with the owners and clubs involved with two particular cars. From that we are now in a position to provide much clearer guidance.
Regardless of what may have happened in the past, any alterations to a monocoque bodyshell will be considered by DVLA to fall within the 'radically altered' category and the rules set out therein will apply (see INF26 and https://www.gov.uk/vehicle-registration/radically-altered-vehicles). As a result, DVLA will cancel the vehicle's original identity, require the vehicle to be marked with a DVLA VIN, the vehicle will be required to obtain an Individual Vehicle Approval (IVA) and a 'Q' registration will be issued
If the vehicle is already registered the existing registration will be withdrawn.
The two instances referred to concerned saloons or coupes converted to convertibles but the same approach would apply to saloons converted to pickups and other similar changes
FBHVC are fully aware that for the large majority of historic vehicles it is not possible to obtain an IVA without expensive and significant modifications which would in any case destroy the historic integrity of the vehicle.
Thus the only conclusion can be 'don't do it!'
Discussions continue with DVLA about how this policy can best be brought to the attention of vehicle owners as FBHVC feel that currently it is not generally appreciated that modifications of this nature will bring the vehicle within the ambit of the 'radically altered' rules.
Technical & Events Tony Davies
Time to drive your cherished classics
Now the better weather is upon us we can really start to drive our cherished classics. The huge variety of HRCR Scenic Tours is available for your enjoyment during the coming sunny months. They really are a real treat if you want some enjoyable low-key outings in your classic vehicle. A look at https://www.hrcr.co.uk/events/category/scenic-tours/ will tell you all you need to know. Afterwards, if you're lucky, you might even find a great photograph of your car in Old Stager, the Historic Rally Car Register's house magazine.  However, don't leave it too long otherwise you won't get an entry on most of these events; they really are popular!!
NM159:-
Kindly reproduced by permission of the FBHVC.
LEGISLATION: Bob Owen
Roadworthiness Testing
We really got caught out in our last Newsletter. Having written our input, we correctly reported not too much activity: but before the Newsletter got to press, the Department for Transport issued two consultations on 22 September. Both related to the EU Directive on Roadworthiness testing and how it should be applied in the United Kingdom. One was obviously relevant, being on the implications for vehicles of historic interest. The second appeared primarily to relate to fast tractors, but actually contained some significant changes to the MoT.
The Department offered a number of options as to how they would proceed, but it is clear they wish to exempt vehicles of historic interest more than 40 years old from a compulsory MoT, though owners will remain free to put their vehicles through a voluntary test. But it is not all historic vehicles, as we have regarded them in the past. The Department wishes to confine the exemption to those vehicles which could pass a test of being of 'historic interest', which, in line with the definition in the Directive, excludes vehicles which have been 'substantially modified'.
The Department is proposing that this test should conform to the current '8 point rule' applied by DVLA to decide whether to grant registrations to Reconstructed Classics.
There are other details in the Consultation, including the possibility of there being a mileage limit on eligible vehicles. They also floated the possibility of extending the exemption to 30 year old vehicles.
It is only possible here to provide the briefest of summaries of what we have said, but here are the main threads.
The whole question of exemption is a difficult one. Most organisations, if asked, do not favour exemptions. But the data on the existing exemption of pre-1960 vehicles shows both that less than 10% of exempt vehicles take the test voluntarily and also that there is no measurable road safety effect of the absence of testing. So we have chosen to confirm that the Federation will accept the Department's favoured position of exempting vehicles over 40 years old from the MoT, and pointed out that if one followed the recognised international standards the exemption would be granted to 30 year old vehicles. We have however counselled that close attention should be paid to accident data in case a real risk appears to be developing.
We have taken this view on the basis that the Department's proposals to replace the existing pre-1960 exemption completely, and that notwithstanding the continuation of voluntary testing, the actual testing procedures and the training of MoT testers will render it ever more difficult to find a wide geographical spread of MoT test stations that are able to apply the test with the level of sensitivity and recognition of standards at the time of build that will prevent wrongful MoT failures and possible damage, particularly to older vehicles.
The Federation has objected strongly both to the creation of a new class of 'Vehicles of Historic Interest' (VHIs) and to the proposed application of the 8 point rule. We have pointed out the risks of eliminating vehicles which are clearly recognised as being historic by the application of an insensitive technical rule. We are concerned that, in the future, we will be divided into 'sheep' and 'goats' on the basis of criteria which we could not have imagined in advance. We have done this in the knowledge that at least two other countries in the EU have chosen to argue that it is not practical to apply any formal technical qualification to
We objected to the assumption in the Consultation that in some way those whose vehicles have been modified look after them less well than the owners of totally original vehicles.
The Federation has disagreed with the concept of mileage limits which would either be too constraining on the majority of historic vehicles or else affect only those who use their vehicles for such things as historic rallies, who can be assumed to be among those who maintain their vehicles best.
We really do look forward to a good and collaborative working relationship with DVLA in the coming period. I wish to deal here with two of the points which have in the recent past caused our members most concern.
Originality of Bodies
As you are all aware we have had a great concern, shared not just by individual applicants for V765 and age related registrations, but also by a number of people who have over many years traded in the production of representative bodies for some vehicles, where a vehicle was clearly identifiable from its chassis but the existing body was not worthy of restoration, that DVLA would not consider itself able to permit the granting of a registration to such a vehicle, no matter how good the restoration. We have as you know debated the matter extensively with DVLA, and we know that concerns were being expressed that the Federation was making no useful progress on the matter. But these things take time and this is where we now are.
We have reached an understanding with DVLA on how the treatment of replacement bodies on chassis will be dealt with through their different schemes. DVLA accept that original bodies may properly be replaced, not least because bodies deteriorate and may need replacing over time.
For vehicles applying under the V765 Scheme for the recovery of an original registration number, the applicant or supporting club should set out clearly the nature of the replacement body fitted, especially if the style is different to that quoted on a supporting original log book, which of course must always be supplied if available, as it is DVLA's preferred primary evidence of the identity of the vehicle. The application should demonstrate that the replacement body is one that could have been placed on it from the outset or is of a style which historically has become associated with the marque.
A supporting club should also provide similar information for applications for an age related registration number, supported by dating evidence/certificate.
If this is done, DVLA should normally give favourable consideration to the application.
It follows from this that vehicles which, by reason of the completeness of their original rolling chassis components, appear entitled to apply for an age related plate should not be submitted as reconstructed classics.
The reconstructed classic category is confined to vehicles created from a collection of parts which did not originally belong to one vehicle. Reconstructed classics will continue to be subject to strict rules in which the body cannot be new but must be contemporary with the other components which have been used to create the vehicle.
We will be continuing to liaise regularly with DVLA on this matter and if any applicant considers that an application, whether for a re-registration under V765 or a dating certificate supported registration, has been rejected, despite appearing to the applicant to comply with these rules, then they should approach us and we should be able either to explain the situation or discuss it with DVLA.
It must be recognised that all these applications are based on evidence provided and information already held at DVLA. A rejection certainly does not imply a lack of care by DVLA and it will sometimes be the case that an application might need to be subject to careful review or further information.
We will be working with DVLA to develop a valid glossary of terms used to identify bodies which we will share with you when available.
Both the consultations and our responses to them are on the website
Low Emission Zones
We have good news on this subject.
London had been proposing that an 'old car surcharge' on the Congestion Charge should apply to historic vehicles. This was primarily of concern as it was feared that this position might be taken forward into the whole Ultra Low Emissions Zone, which it is now proposed will be wider than originally intended (out to the North and South Circular Roads) and be brought forward in time. But the Office of the Mayor has now decided that historic vehicles will not be subject to the surcharge nor will the exemption from the ULEZ be removed. The argument they have accepted is the sound one that the charging process in London is intended to affect behaviour by encouraging people to acquire newer vehicles with less emissions, which is clearly not applicable to historic vehicles which are being preserved in small numbers for the future.
At the same time a DEFRA consultation, Implementation of Clean Air Zones in England, has proposed that historic vehicles be exempted from LEZ requirements for the same reason.
It thus appears as if for the moment at least our special position as keepers of part of Britain's heritage is being protected.
We are aware that members are constantly concerned that the roll-out of Low Emission Zones, currently being rebranded by the Department of the Environment Farming and the Regions (DEFRA) as Clean Air Zones, as they affect more than the emissions from vehicles, will cause constraints on the use of their historic vehicles. The signs remain good that our special position as the protectors of heritage is recognised in government, of whichever political stripe. There have been two recent developments, both of these good.
The first is that in its move to bring forward the implementation of the proposed Ultra Low Emissions Zone in London and to extend its boundaries, initiated by the current Mayor, Transport for London (TfL) has nevertheless been clear that vehicles in the historic registration class remain exempt. There was concern that in the interim measure, to introduce an 'Old Vehicle Surcharge' into the existing London Congestion Charge until the ULEZ is in place, historic vehicles were not to be excluded. This was not truly illogical as historic vehicles have of course always been liable to pay the London Congestion Charge itself. However, following their initial consultation, TfL recognised the inconsistency with ULEZ policy and their current proposals, set out in the implementing legislation, do introduce an exclusion from liability for the surcharge.
The Federation, in response to a second consultation from TfL setting out these proposals, has asked that a method be found of extending the exemption to vehicles from overseas, particularly as we are aware that schemes in several neighbouring countries do offer such an exemption to visiting historic vehicles.
Interestingly, their logic is that these charges are an economic encouragement for people to change their non-compliant vehicles, and that this does not apply to vehicles deliberately preserved for the purposes of historic heritage.
That same argument to justify the exemption of historic vehicles has been produced in the consultation which DEFRA and DfT together issued in October to cover future Clean Air Zones, the first of which are slated to occur in Birmingham, Leeds, Nottingham, Derby and Southampton. The proposals provide a common consistent framework for local authorities to follow in setting up these Zones and make clear that departures from the framework would need to be approved centrally.
The Federation responded positively to this consultation, again requesting that a method be found to exempt visiting foreign historic vehicles as well. We also sought confirmation from Government that they would not readily accede to a local departure from the policy on exemption of historic vehicles set out in the framework.
There has been some concern expressed by some members that in making these responses the Federation has simply confirmed our support for the proposed exemptions on the basis put forward by the authorities, rather than restating the arguments about the small numbers of vehicles involved and the likely rarity of their taking advantage of the exemption. That must be a matter of judgement, but in our view, it is better, in consultation responses where we agree with the proposal, simply to express that agreement.
Accurate V5Cs and the Vehicle Enquiry System (VES)
We have reported at length on this issue over the months. I recognise that, seen from outside, it might have appeared as if DVLA was wilfully deciding not to correct inaccurate descriptions of vehicles in their database, and thus on the Form V5C, usually by running the 'Make' and 'Model' information together in the 'Make' box. But it has never seemed likely to those of us dealing with the matter that DVLA staff were simply being difficult. Following our meeting in Swansea, I am satisfied that we really do understand the current position and it is also clear that DVLA understand our problem.
The default position for entries onto the DVLA database is dependent upon manufacturers' codes which DVLA does not itself create. A code is supplied, indirectly, in respect of each new model of vehicle. This code automatically populates the fields of the database which appear as boxes D1 and D2 on the V5C. They may well populate other fields as well. It would be logical that they did.
As we all know, there are vehicles without codes, (mainly historic, but there might be others). In respect of these, it is possible for a DVLA officer to identify the vehicle by manually completing Box D1 only.
Normal practice is that, if a vehicle keeper applies for an entry on the register, and on the Form V/55/5 shows both a Make and Model, that information can only be entered into the same field, which shows as Box D1.
While this has been annoying for those seeking historical accuracy in their registration details, it did not matter for the purpose of the registration system while the database was essentially for the use of DVLA and such bodies as the police. However, with the introduction of the VES it now affects the operation of the service, as you cannot search for a vehicle affected by this problem unless you know exactly what appears in Box D1 of the Form V5C, as that records exactly what is in the database. Not everyone with a proper need to search for the vehicle details on the VES will have access to the V5C.
While it is generally agreed between us and DVLA that it would be best if the Model could be entered separately the current system architecture simply does not permit manual entry into Box D2. And as DVLA are in the course of updating their system software and hardware, it is not currently possible for them to request system alterations. They are however giving serious consideration to including an ability to make a manual entry into Box D2 as part of the requirements for the system when it is're-platformed'.
In the short term this is bad news for those of us who have a vehicle with no manufacturer's code but would like the vehicle Make and Model details to be accurately shown for simple reasons of historical accuracy. I am afraid this is simply not currently possible.
Obviously, if it is in some cases not possible to complete Box D2, the operation of the DVLA database does not require an entry in Box D2. Indeed I myself have two cars in respect of which V5C Box D2 in their V5C is blank. We have the assurance from DVLA that, if any keeper wishes to ensure that their vehicle will be searchable on the VES, and it currently is not because Box D1 shows both Make and Model combined, it will be possible to apply to have the database, and thus the V5C, amended to show only the Make, in Box D1, leaving Box D2 empty.
There is no compulsion on anyone to take this course of action, but it is available.
I would also recommend that people making new applications for registrations, particularly in respect of older overseas vehicles, which are likely not to have relevant codes, do not complete the Model portion of the V55/5, though I would recommend that if you choose to do this you explain in writing what you have done, to avoid the application simply being rejected for incompleteness.
If I hear of any progress on the inclusion of the ability to have manual input into Box D2 I will let you know.
FUEL NEWS: Bob Owen
The Federation responded to the recent Department for Transport consultation on Amendments to the Renewable Transport Fuel Obligations Order expressing our concerns about the use of fuel containing ethanol in historic vehicles.
We have just received a letter from DfT which includes the following statements, which we think we should share with you.
'You [FBHVC] note that the protection and requirement to make available E5 in the Motor Fuel (Composition and Contents) Regulations has not been required as E10 has not been rolled out. You also ask that all possible steps will be taken to ensure the continued widespread availability throughout the United Kingdom of a petrol fuel grade with no more than 5% ethanol, and when E10 might be introduced.
 We are in regular contact with suppliers on the potential roll out of E10 and there are no immediate plans to roll out that E10 in the UK, and we aim to consult this year on proposals to amend the Motor Fuel (Composition and Content) Regulations to ensure an E5 petrol grade is made available in the event that E10 is rolled out in the UK.'
This should serve to allay fears of a rapid introduction in the UK of E10 fuel and phase out of E5."
NM158:-
Kindly Reproduced from FBHVC [FUEL NEWS
Manchester XPAG Tests, Modern Petrol – Volatility
Paul Ireland
The Federation contributed some financial support to this series of tests in 2016. Paul Ireland has kindly written a summary of his findings for this Newsletter.
Introduction
To investigate the problems of running classic cars on modern petrol, a series of tests has been run on a 1940s twin SU carburettor XPAG engine at Manchester University School of Mechanical, Aerospace and Civil Engineering.
Petrol consists of over 300 different hydrocarbons. Measuring the volume of fuel that evaporates as a sample of petrol is heated gives a distillation curve for that fuel. The graph below compares the distillation curves of the different fuels used in the Manchester tests and that of 1930s petrol which remained virtually unchanged into the 1970s.
The curve for modern 95 octane forecourt petrol (blue line) compared to 1930s petrol (the orange dotted line) shows that classic petrol is much less volatile, especially at typical engine bay temperatures. This increased volatility of modern petrol is at the heart of the problems suffered by classic car owners.
A petrol engine produces colossal quantities of heat. Unfortunately, only around one third of this heat energy is converted into power to move the car forward, the remaining two thirds is waste heat, most of which goes into heating the engine bay.
At Manchester, the highest petrol temperature in the carburettors when running at full power was 42oC. Not sufficiently high to cause problems.
The thermal image shows the blue float chambers silhouetted against the white (300oC plus) exhaust manifold. Despite being positioned less than one inch above the exhaust manifold, the petrol flowing through the carburettors is keeping them cool. After the engine was stopped, the tests showed the carburettors were being heated by hot gasses coming from the engine through the inlet manifold, not by heat from the exhaust manifold: thus demonstrating that it is not obvious how the carburettors are being heated.
In slow moving traffic, two effects work to increase under-bonnet and petrol temperatures. Although the engine is running at low power and producing less heat, the rate at which heat is lost is reduced, there is less air flow through the engine bay. In addition, petrol is flowing more slowly through the carburettors and has more time to heat up. When the engine is switched off, petrol stops flowing and its temperature will continue to rise as heat soaks out of the engine, exhaust and radiator.
The distillation curve for 95 octane fuel (above) shows a rapid rise in the volume of fuel evaporating between 45oC and 70oC. As the fuel boils, vapour bubbles in the petrol result in the carburettor delivering a much weaker mixture. This is what causes the engine to stop or prevents it from restarting.
The best way to address this problem is to use petrol with fewer low temperature components, more like the 1930s petrol. This reduces the volume of fuel that will boil as the engine bay gets hotter.
Unfortunately, it is not possible make any specific recommendations for two reasons. Firstly, the regional UK fuel distribution industry is served by around 14 different refineries, all of which produce slightly different base stock. Secondly, there are three different grades of fuel are sold throughout the year:
Winter fuel - October to April.
Intermediate fuel - April to May and September to October.
Summer fuel - June to August. This will probably have fewer low temperature components.
In practice these dates are not fixed and will vary with ambient temperature and the turnover at any particular filling station, making it virtually impossible to know what grade of petrol is being sold.
The data above indicates super grade fuels are possibly less volatile. However, it is worth trying different brands to find out which petrol and grade gives the smoothest performance and will reduce vaporisation problems.
It is important the engine is properly tuned. Even a few percent reduction in efficiency, probably not noticeable in normal road use, will increase the amount of waste heat. The cooling system should also be working efficiently. Electric radiator fans help keep air circulating but may make matters worse. In slow moving traffic, they are drawing hot air through the radiator and blowing it into the engine bay. It is also worth fitting a timer or equivalent circuit to ensure any electric fans continue to run for around 5-10 minutes after the engine has stopped.
Anything that can be done to keep the fuel system, particularly the carburettors, cool will help reduce the severity of the problems caused by the low temperature volatility of petrol. An infrared thermometer or thermal imaging camera is the ideal way to identify hot spots. Unfortunately, as soon the bonnet is opened, the temperature profile will change. As an alternative, digital multi-meters with thermocouples are now inexpensive and provide the means to allow your passenger to accurately measure the temperature of the fuel system even while a car is moving.
Unfortunately, there is no magic solution to this problem but with care it is possible to reduce its severity.
Vehicle Excise Duty
Vehicles manufactured up to 31 December 1976 are now under the Finance Act subject to a nil rate of VED.
However, there is an important issue of which we ought to advise you. Up to this year, when a vehicle was in fact manufactured before the qualifying year end date but was first registered after that date, DVLA have accepted applications from its keeper, supported of course by valid evidence emanating from the vehicle manufacturer, to amend the V5C to show the correct manufacturing date and thus enable the vehicle to be included in the historic class. This arrangement was formally negotiated between DVLA and the Federation.
DVLA will no longer do so. Their reasons arise from the introduction in 1976-7, of the V55/1 Form system of registration, completed by the dealer at time of first registration, which of course usually coincides with sale.
DVLA say they do not record date of manufacture because the dealer signs a form saying the vehicle is 'new and unused' and that this must mean that it was manufactured in the same year as the declaration.
That means, for instance, that a vehicle manufactured towards the end of the year 1976 but sold in 1977 must, according to DVLA, have been manufactured in 1977. Thus they will not make the amendment to the V5C which enables the vehicle to be included in the historic registration class and qualified for nil rate VED. Inevitably there will be a significant number of vehicles affected, as it is totally impossible for every vehicle to be registered on the day of manufacture and in the normal course of things the period between manufacture and sale will on occasions cross a year end. This problem will roll forward year by year with the rolling 40 year VED exemption.