Ginetta Owners Club was formed early in 1977 to formalize the Ginetta Owners Register which had been collated in the previous years by Jules Birch as a body to link owners via a newsletter. Until the formation of the Club the newsletter had been produced by Jules at his own expense and was available to owners by sending a stamped addressed envelope. Here is the cover of Newsletter No 1 :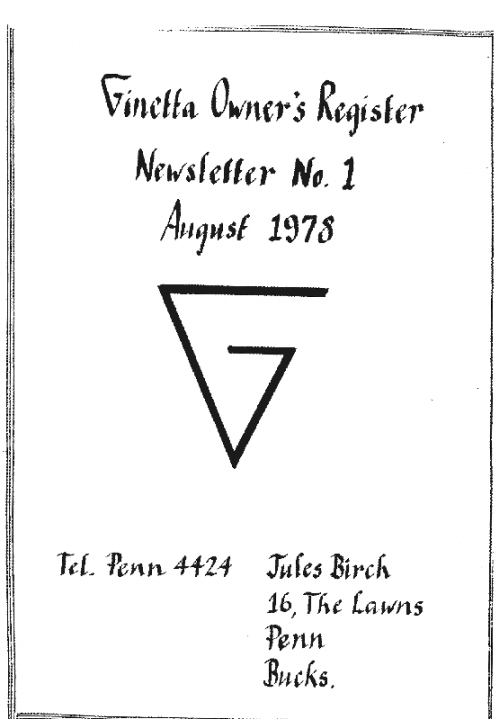 The inauguration of the Club saw Jules installed as Chairman of the newly elected committee which initially comprised a General Secretary, a Treasurer, a Magazine Editor and a Competition Secretary. In the early years of the club membership was fairly stable at around 150 members. However, during the 80's the membership steadily and consistently increased. The cause of this change in fortune was an improvement in the 'NewsMag' and a greater enthusiasm for and awareness of the marque, generated both by the Club and the new models being produced by Ginetta Cars, Ltd.
In the early years the NewsMag was compiled and edited by John Rose, the author of a number of authoritative books on the marque. Over the years it developed and improved and in both 1984 and 1993 won the 'Classic Cars' award at the expense of many larger and longer established car clubs.
Our Aim
Although stated more formally in the rules, our aim can be summed up as being a body in which owners of sometimes rare but always exiting cars can compare vehicles, ideas and experiences, exchange technical knowledge and be encouraged to support and attend events organized or participated in by the Club.
The name Ginetta will always be associated with motor sports and we encourage members to enter their cars in all forms of competition, be it circuit racing, sprints, hillclimbs, tarmac stage rallies, autotests and concourse d'elegance.
Where now? Learn how to join the Club.  /  Have you ever owned a Ginetta?